Valentine's Dinner for 2019-02-14
Valentines Dinner Open to the Public.
65.00 members
95.00 non members
Enjoy a romantic candlelight dinner with a view of the entire valley that can match no other.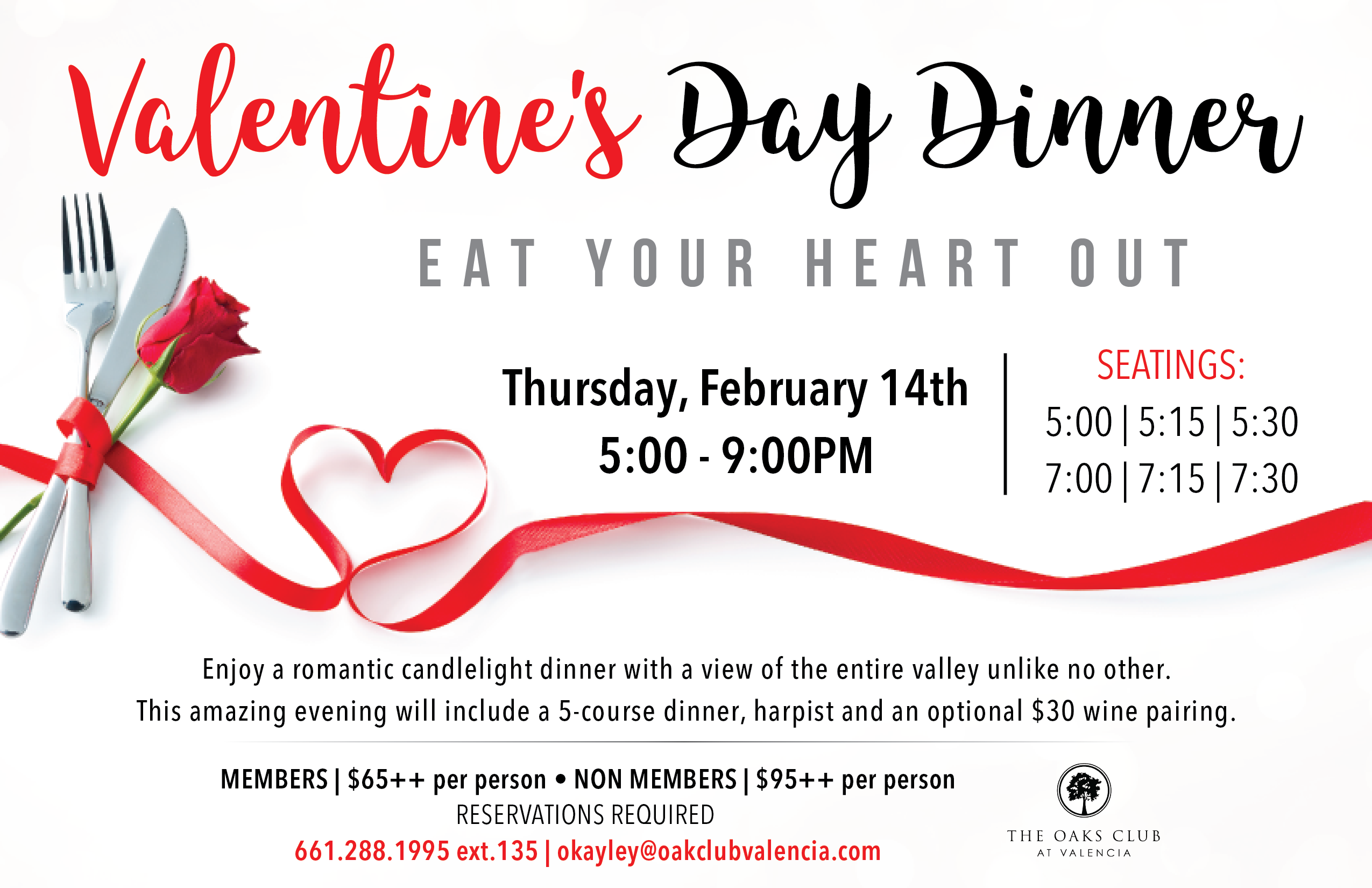 Menu:
Amuse Bouche
Gruyere Cheese Gougères
Appetizer
Beau Soliel Oysters, Champagne Gelée,
Mignonette, Basil Oil, Lemon Air
Roasted Beet Salad, Pumpkin Seed Granola, California Goat Cheese, Pickled Grapes,
Raisin Mustard Vinaigrette, Herb Salad
Mid-Course
Grilled Octopus Salad, Lemon, Potato,
Pickled Onion, Mâche, Chermoula Sauce
Black Truffle & Mushroom Soup, Shaved Périgord Truffles, Thyme Crème, Hon Shimeji Mushroom
Entree
Wild Striped Sea Bass, Cauliflower Velouté, Brussels Sprout, Lemon, Grapes, Hazelnut, Dates
Prime Ribeye Steak, Brown Butter Mashed Potato, Sautéed Swiss Chard, Baby Carrots,
Wild Mushroom Bordelaise Sauce
Roasted Butternut Squash Agnolotti, Shaved Pecorino, Black Périgord Truffles
Dessert
Mango Panna Cotta. Passion Fruit, Chile Caramel, Dulce Pearls, Meringue, Mint
Dark Chocolate Mousse Cake,
Raspberry Compote, Chocolate Espresso Beans
Choose One Appetizer, Mid-Course, Entrée, Dessert.
Please alert server of any allergies.
Substitutions politely declined.